Ticket Availability for Philadelphia, PA
Holiday Inn Philadelphia Stadium
900 Packer Ave, Philadelphia, PA 19148
View Map
This venue is wheelchair accessible.
Guests may enjoy free parking on site.
Now Showing:

Crime and Pun-ishment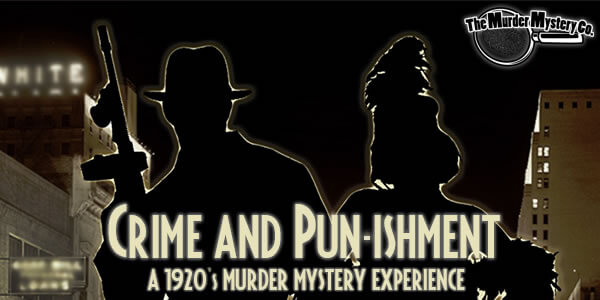 Things take a turn for the gutter at Mafia Don Lou Zar's juice joint when someone is put on ice! The crowd is chock full of potential suspects. Jealous, jilted lovers, a rival Mafioso, and a pair of undercover feds make an appearance at this speakeasy and not a single person is muttering a word! Help find out who's on the level and who's on the lam by trading clues with your guests, gathering information, and solving the crime before the murderer hotfoots it out of there!
Dress for this night of murderous mayhem includes flapper dresses, zoot suits, feather boas and headbands, pinstriped suits and fedoras. If you aren't feeling that jive you can dress as a private detective to help solve the crime, just don't frame the wrong guy!
Ticket Types & Upgrades
General Admission

$90
All tickets sold over the phone and on grimprov.com are General Admission. Doors open 20 minutes prior to showtime for General Admission seating.
VIP Package

+$19
Upgrade General Admission seating to VIP status for an extra $19 per ticket. Doors open 30 minutes prior to showtime for VIP seating.
As a VIP ticket holder you will also receive:
Mugshot Memento photos for your entire party
Preferential seating nearest to the performance area
Murder Mystery Show Locations