Sorry Detective! We don't have any open shows or cases here at the moment. Check back again soon!
Hillcrest Country Club
8200 Hillcrest Road, Kansas City, MO 64138
View Map
This venue is wheelchair accessible.
Guests may enjoy free parking on-site.
Now Showing:

Crime and Pun-ishment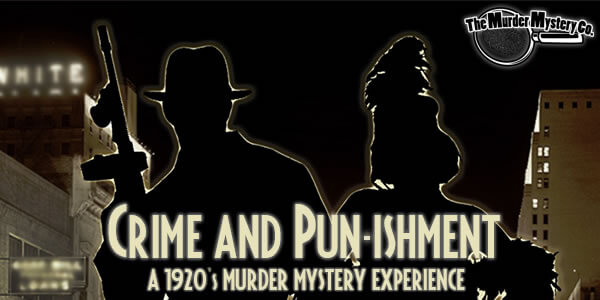 Things take a turn for the gutter at Mafia Don Lou Zar's juice joint when someone is put on ice! The crowd is chock full of potential suspects. Jealous, jilted lovers, a rival Mafioso, and a pair of undercover feds make an appearance at this speakeasy and not a single person is muttering a word! Help find out who's on the level and who's on the lam by trading clues with your guests, gathering information, and solving the crime before the murderer hotfoots it out of there!
Dress for this night of murderous mayhem includes flapper dresses, zoot suits, feather boas and headbands, pinstriped suits and fedoras. If you aren't feeling that jive you can dress as a private detective to help solve the crime, just don't frame the wrong guy!
---
Coming Soon:

Til Death Do Us Part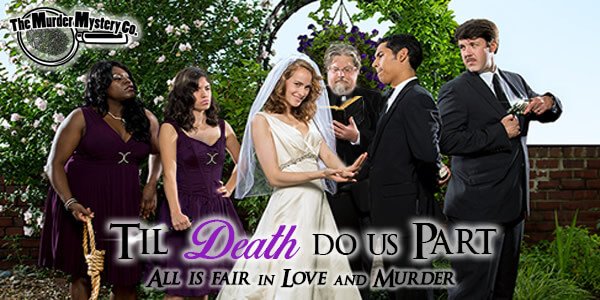 The birds are chirping, the sun is shining, but the wedding bells aren't ringing for this not-so-happy couple when a member of the wedding party is murdered! With a raging bridezilla and an unenthused groom on the scene, it may be happily never after in this nuptial nightmare. Trade clues with your guests and help the hapless couple figure out whodunnit so they can say I do before the wedding hour passes them by!
The bride and groom aren't picky, so you can wear just about whatever you'd like. In fact, we encourage you to wear your own wedding dress or the most ridiculous wedding attire you can come up with. It'll make their special day that much more special, so long as they actually get the chance to walk down the aisle!
Ticket Types & Upgrades
General Admission

$60
All tickets sold over the phone and on grimprov.com are General Admission. Doors open 20 minutes prior to showtime for General Admission seating.
Early Access Upgrade

+$5
Upgrade General Admission seating to Early Access for an extra $5 per ticket. Doors open 30 minutes prior to showtime for Early Access seating.
VIP Package

+$19
Upgrade General Admission seating to VIP status for an extra $19 per ticket. Doors open 30 minutes prior to showtime for VIP seating.
As a VIP ticket holder you will also receive:
Mugshot Memento photos for your entire party
Preferential seating nearest to the performance area
Murder Mystery Show Locations