Sorry Detective! We don't have any open shows or cases here at the moment. Check back again soon!
Room Rate Discount: Murder Mystery Co. Exclusive Offer
Save $30 on your hotel reservation for Saturday, December 31 when you purchase one or more tickets to attend the murder mystery dinner.
View Room Availability
Holiday Inn Hotel & Suites Ann Arbor Univ. Michigan Area
3155 Boardwalk Dr, Ann Arbor, MI 48108
View Map
This venue is wheelchair accessible.
Guests may enjoy free parking on site.
Now Showing:

A Dance with Death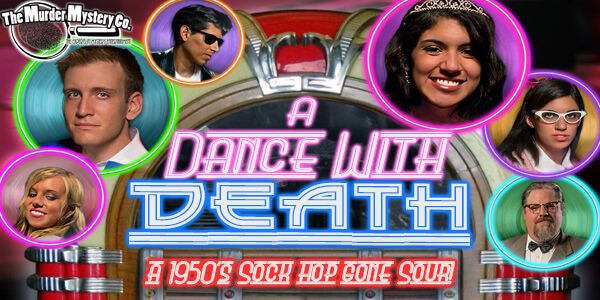 This 1950s sock hop is a doo-wop disaster! When a death on the dance floor makes this fun night a party foul, it is up to you to figure out whodunnit and get this dance back on track. Trade clues with your guests, gather information about the crime, and reveal the punk who made this hop go to nowheresville. This night of laughter and dancing is now too heavy to razz anyone's berries, so it's up to you to find the murderer!
Word from the bird is this is one show you will not want to miss. This night is shootin' to be swell despite the disaster. This is a chance for the ladies to get all dolled up for dancing in poodle skirts, bobby socks, and a ponytail with a floppy hair bow. The guys will look perfect as greasers with cuffed jeans, white t-shirts, and leather jackets, or as jocks, complete with letterman jackets! Get ready to put on your thinking caps; you'll need your wits about you to solve this crime.
Ticket Types & Upgrades
General Admission

$60
All tickets sold over the phone and on grimprov.com are General Admission. Doors open 20 minutes prior to showtime for General Admission seating.
Early Access Upgrade

+$5
Upgrade General Admission seating to Early Access for an extra $5 per ticket. Doors open 30 minutes prior to showtime for Early Access seating.
VIP Package

+$19
Upgrade General Admission seating to VIP status for an extra $19 per ticket. Doors open 30 minutes prior to showtime for VIP seating.
As a VIP ticket holder you will also receive:
Mugshot Memento photos for your entire party
Preferential seating nearest to the performance area